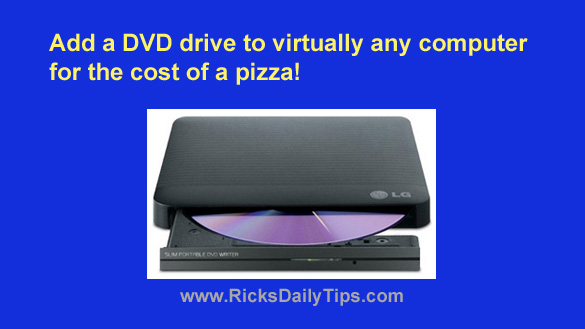 Do you have a laptop or desktop computer with a built-in DVD burner that no longer works?
Or have you purchased a new laptop or ultrabook that doesn't have a built-in optical drive at all?
If you never use CDs or DVDs and you don't think you'll be needing to in the future, you can easily get by without a working optical drive.
But what if you do need one because you have a stack of CDs you want to listen to while you work?
Or perhaps you have a stack of DVDs crammed full of old family photos that you scanned back in the day?
You could always pay someone big bucks to replace an existing optical drive that's gone bad, but there's no way to add one to a laptop that was designed not to use one in the first place.
Luckily, there's a very simple (and very inexpensive) solution to this dilemma:  Simply plug an external USB optical drive into one of your machine's USB ports!
You can pick up one of these little jewels from Amazon (#ad) for as little as $15 or so. I've tested a bunch of these dirt-cheap optical drives and they typically perform quite well.
Yep, I said as little as $15, and that's a true bargain when you consider how much you'd have to pay a computer shop to replace a defective drive.
And it's an even greater bargain if your laptop didn't come with an optical drive in the first place.
Bottom line: Adding a working optical drive to your computer is quite inexpensive, and it couldn't be easier to do. In fact, installing one is literally as easy as plugging a cable into an empty USB port!
Bonus tip: Is your laptop or desktop computer running slower that it used to? Read this post to learn how to speed it up.
---
Never miss a tip!  Click here to sign up for my free Daily Tech Tips Email Newsletter!