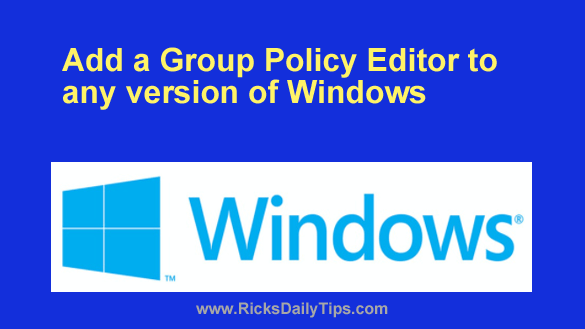 If you've ever used a Pro or Enterprise edition of Microsoft Windows you probably know those editions come with a handy tool called the Group Policy Editor, or GPedit for short.
In a nutshell, the Group Policy Editor allows you to make hundreds of advanced tweaks to a PC's Windows installation that aren't available via the Control Panel or Settings app.
The thing is, GPedit isn't available in the Home version of Windows, just the Pro and Enterprise versions.
This short video shows how to add a fantastic open-source group policy editor tool to ANY version of Windows (and explains why you might want to): 
Do you prefer following written instructions? Well here you go…
If you've ever read an article explaining how to make some type of advanced Windows tweak you were probably presented with two sets of instructions: a short 3 or 4 click procedure using the Group Policy Editor and a second, more detailed set of instructions that included making a change to the Windows Registry.
And if your PC was running the Home edition of Windows, guess what? You had to actually edit the Registry in order to complete the tweak.
It's much easier and safer using GPedit to tweak Windows than editing the Registry because one little mistake when changing a Registry key can wreak all manner of havoc with your PC's Windows installation.
But since GPEdit isn't available in the Home edition, you're stuck making Registry edits, right?
Well, not necessarily…
You can easily add a fantastic open-source group policy editor tool to ANY version of Windows with just a few mouse clicks. It's called Policy Plus and it's very easy to download and use. Just follow these steps:
1 – Visit this page in your web browser:
https://github.com/Fleex255/PolicyPlus
2 – Read everything on that page so you'll know what to expect during the download process and when you're using the tool.
3 – After you've finished reading everything on the page, scroll down to the "Download" section and click the Download a release build from the Releases page link.
4 – Click the top Snapshot link (it's June 2021 snapshot as of this writing).
5 – Click on PolicyPlus.exe to download Policy Plus to your PC.
6 – Right-click on the downloaded PolicyPlus.exe file and select Run as administrator from the menu.
7 – Answer Yes in response to the "User Account Control" dialog.
8 – Select the policy you want to change, then make the change.
9 – Click File>Save Policies.
10 – Click the X in the top-right corner of the window to exit Policy Plus.
That's all there is to it. You now have a fantastic group policy editor tool on your PC (and you know how to use it).
---