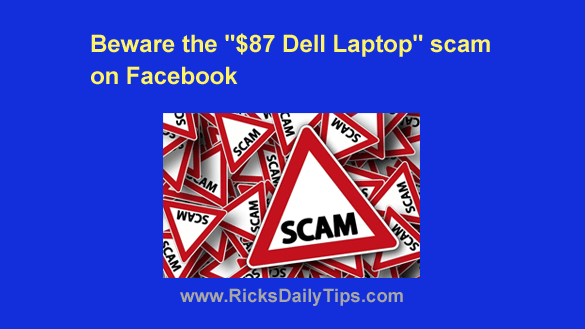 Update: This one is making the rounds yet again. Beware…
---
If you've been using Facebook for a while you surely know that scams abound on that site.
And as the latest scam proves, the scammers are getting bolder all the time.
And as you will soon see, this one is nothing more than straight-up fraud.
I first noticed it when a curious sponsored post popped up in my Facebook Newsfeed.
In a nutshell, this "ad" claimed to offer "overstock" high-end Dell laptops for the ridiculously low price of just $87.
Here's a screenshot showing the sponsored post in question: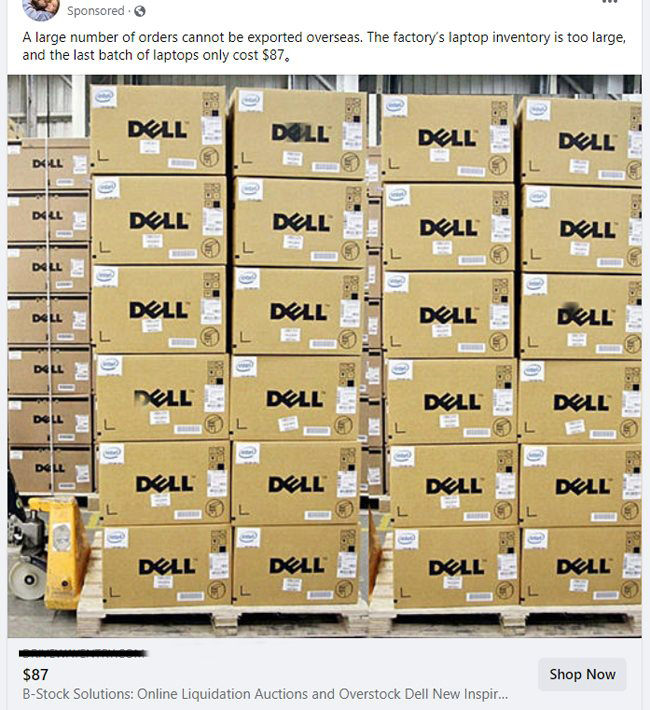 Of course the price was flag #1.
Curious, I decided to check out the website where these awesome laptop deals could be had. What I found wasn't surprising in the least…
First of all, the website was poorly crafted and obviously not of the quality one would expect of a legitimate online retailer.
Next, a quick peak at the site's Alexa traffic ranking showed that Alexa hadn't yet had a chance to gather any data about the number of visitors that were going to the site.
If you're unfamiliar with the way Alexa works, a showing of "no data" is a clear indication what the website could be new because Alexa starts gathering data about the number of visitors a site receives on day one.
That prompted me to check the "Whois" information for the site's domain name. As expected, that website's domain name had just been registered four days ago.
In other words, this was a brand new website that had been built from scratch within the last four days. Not exactly the type of site I would trust.
But it gets even worse…
The only method of payment accepted for orders on the website was PayPal.
Now I have nothing against PayPal. In fact, I'm a heavy PayPal user myself and many legitimate 'brick and mortar' retailers use it in their stores.
However, very few legitimate online retailers list PayPal as their only method of accepting payments. At the very least they'll also accept direct credit/debit cards payments.
In fact, direct card payments will almost always be listed first since those are typically preferred in a retail setting.
All the above clues led to me to this logical conclusion: The website and the sponsored post promoting it were nothing more than scams.
Sadly, it appears that numerous people are falling for this scam. Dozens of Facebook users commented on the post saying they had placed an order, and many of them had ordered multiple units.
And unfortunately, those folks are unlikely to ever get their money back unless PayPal decides to pony up the refunds themselves.
That first fraudulent post already had over 100 shares even though it had only been on Facebook for less than three hours.
Over the course of last night and this morning I've seen at least four different sponsored posts all making the same ridiculous offer, with each of those posts listing a different fraudulent website.
As is typically the case, the scammers are using multiple fraudulent websites and multiple scammy sponsored posts to rip off as many innocent Facebook users as possible in a short amount of time.
They know the fraudulent posts will eventually get reported and shut down so they're "making hay while the sun shines" as my grandfather used to say.
Bottom line: No legitimate website is going to be selling brand new high-dollar Dell laptops for anywhere near the price quoted in these fraudulent sponsored Facebook pasts and fraudulent websites. They just won't.
If you happen to see one of these scammy posts I recommend that you do the following:
1 – Click (or tap) the three dots in the top-right corner of the post and click Report ad.
2 – Delete the post from your Facebook Newsfeed and move on.
If you have already taken the bait and placed an "order" for one or more of the $87 laptops, don't beat yourself up. Lots of other folks are falling for it too.
Instead, file a fraud complaint with PayPal immediately. With any luck you just might be able to get your money back.
The good news is the scammers only have your name, email address and mailing address since they took your money via PayPal.
Of course having that info in the hands of a scammer is bad, but it would have been a lot worse if you had paid with a debit card.
---