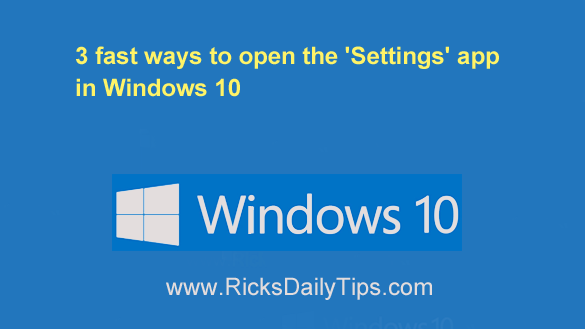 Starting with the release of Windows 8, Microsoft moved several important system settings from the Control Panel to the new "Settings" app.
They also added a bunch of new settings to the app that weren't even available in previous Windows versions.
And now with Windows 10 they keep placing even more important settings in there with virtually every new major update.
With the Settings app getting more important every day, I thought it would be a good idea to explain the fastest methods you can use to open it.
There are actually over a dozen ways to open the Settings app, but since I'm all about simplicity in computing I'm going to tell you about the three methods that are the fastest (and probably the easiest) to use:
1 – Open the Settings app via the Start Menu…
a) Click the Start button to display the "Start Menu".
b) Click the Settings icon located near the bottom left corner (it looks like a "gear" or "cog").
2 – With a quick search…
a) Press the Windows key combination to launch the Start Menu.
b) Type settings, then select Settings from the list of search results.
3 – With the keyboard (the fastest method of all)…
Press the Windows+I key combination.
There you have it – three fast ways to open the Settings app in Windows 10.
Which method do you prefer?
Bonus tip: This post explains how to show hidden files and folders in Windows 10.
---
Never miss a tip!  Click here to sign up for my free Daily Tech Tips Email Newsletter!