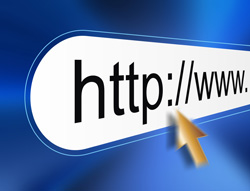 Question from Merrill D.:  I'm a member of two different gaming forums that I post on almost every day.
My little brother wants to sign up for them too but when he tries they always tell him his IP address already has an account associated with it (I assume that it's my account).
Why do those websites think our computers both have the same IP address? We have Charter Internet and a modem/router combo box if that makes a difference.
Rick's answer:  Hi Merrill. The short answer to your question is because your brother's PC and your Mac really do have the same IP address, at least from the perspective of your ISP and the Internet at large. In fact, every device that's connected to your router shares the same IP address.
I'll do my best to explain how this Internet addressing thing works:
Think of a router as a water storage tank that supplies water to a farmer's house, his barn, and several outbuildings. The water enters the storage tank via a pipe that's connected to the local water company's water main.
From the water company's perspective, they deliver water to the tank so that's all they "see". They have no knowledge of how the farmer distributes the water once it arrives in the tank. And frankly, they don't really care. As long as the farmer keeps paying his water bill, they're happy.
From the farmer's perspective, he likely has no idea where his water comes from or how it makes its way to his farm. All he knows is there is a pipe delivering water from the water company's water main into his storage tank, and as long as the water keeps flowing, he's happy.
The water main is like the Charter cable that runs past your home. All Charter knows is you have a cable modem and router combo that has a single IP address. They don't really care what's connected to your router (from an addressing standpoint). All they have to do is make sure their servers can properly communicate with your modem and router via your IP address.
The pipes leading from the farmer's water tank to the various buildings on his farm are like the Ethernet patch cables and/or Wi-Fi connections that connect each of your computers and other devices to your router. The router assigns each of your devices an IP address that it uses to communicate with those devices and route each packet of data to the correct one.
Here is a diagram that (hopefully) explains all of that a little better: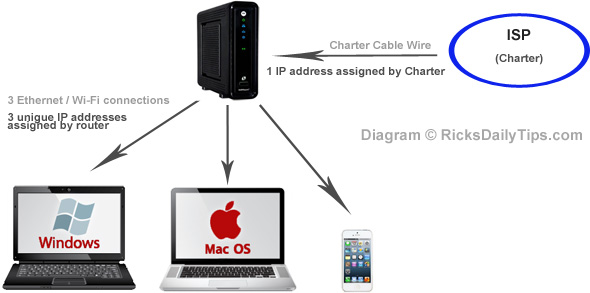 Bottom line: All of your devices are known to your router by a unique, locally assigned IP address. The router itself (which forms the backbone of your local network) is seen by the Internet at large as having a single IP address.
That's all there is to it Merrill. I hope this helps.
Like this post? If so, you can get even more tips in my RicksDailyTips Email Newsletter. Sign up for free at the bottom of this page!
---
Do you have a tech question of your own for Rick? Click here and send it in!