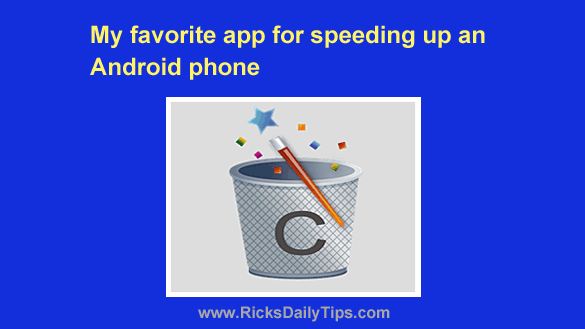 If you've had an Android phone for a while, you've probably noticed that it's slower and less responsive than it was when you first bought it.
If that's the case, one of the major culprits could be bloated log files, browser caches and other large "temporary" files that are clogging up your phone's storage space.
Just like Windows and other operating systems, Android and the apps that run on it store all kinds of historical information such as visited web pages, recently used contacts, old text messages, and a whole lot more. 
Over time, the files that store all of these numerous tidbits of data grow ever larger until they have consumed the bulk of your device's storage space.
And when Android starts running out of storage space, it begins slowing down because it has to waste time deleting old information in order to make room for new info.
That's why it makes sense to periodically clean out your phone's browser caches, call and text logs, history files and any other temp files before they have a chance to completely take over your phone's storage areas.
If you have plenty of time on your hands (and tons of patience), you can manually track down and clean out all of your phone's temporary storage files, but there's a much faster and easier way to do the job…
Just install a great free app called 1Tap Cleaner.
1Tap Cleaner will allow you to selectively clear out pretty much any temporary files that exist on your Android phone.
For example, of you want to clear out your browser caches and history files, 1Tap Cleaner will do it quickly and easily while leaving your call and text logs intact.
But if you want a truly "1 tap" solution to clearing out everything in one fell swoop, the app will do that for you as well.
1Tap Cleaner works like a charm, but there are a couple of caveats to keep in mind:
1 – Clearing the browser caches will remove any stored passwords, so make sure you remember all of your passwords before clearing the caches.
2 – While this app is completely free to download and use, it does offer in-app purchases.
This shouldn't be an issue for most users since we can simply ignore the offers, but keep the in-app offers in mind if you plan to install this app on a child's phone.
That's all there is to it. You'll find the free 1Tap Cleaner app in the Google Play Store. Simply tap the Play Store icon and search for 1Tap Cleaner.
Bonus tip: Protect your Android device from Malware with the awesome AVG for Android app.
---