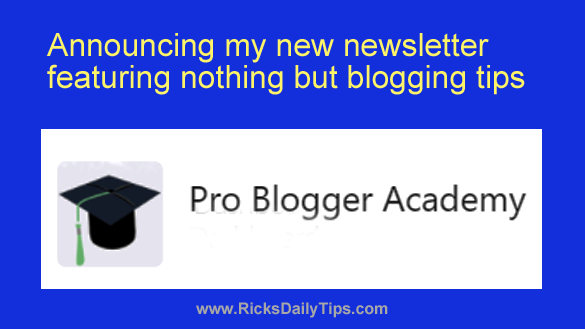 I love blogging because it's a great way for me to help folks with their tech problems.
Rick's Daily Tips covers several tech-related topics, one of which is the field of blogging itself.
It recently occurred to me that there are plenty of experienced blogging experts out there who have tons of valuable insights to share with those who are trying to build, maintain and grow successful blogs of their own.
For that reason I've decided to create a new newsletter dedicated solely to blogging tips.
My goal with this new newsletter is to highlight the very best blogging tips and information available, which means featuring articles written by the world's most respected blogging experts.
It's my hope that readers will learn something valuable enough from every issue to feel as if they're taking college-level classes in various topics related to blogging.
For that reason, I've named this new "blogging tips" newsletter Pro Blogger Academy.
I'll strive to ensure that the content provided in every issue will live up to that name, and I promise to do my very best to make it so.
Click here to check it out and read a few of the featured articles. If you like what you see, feel free to sign up if you want to build, grow and profit from a professional quality blog.
All I'll need is your email address so I can send the newsletter to your Inbox. You can rest assured that it will never be shared with any third party. Ever.