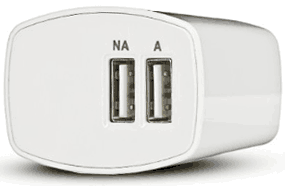 Question from Denise O.:  I recently returned home from our vacation only to discover that I'd left the charger to my iPad 2 in my hotel room at the beach. I know I had it at the hotel because I used it there, but now I can't find it.
I called the hotel and asked them to check the room, but they said it wasn't there so I guess I'm gonna have to buy one.
Can you recommend a good, but affordable replacement iPad charger? I'd love to find one that works well and won't damage my iPad, yet costs as little as possible lol.
Rick's answer: Hi Denise. I know how easy it is to accidentally leave an important piece of equipment behind when you return home from vacation. I'm sad to say that I'm the king of "forgetfulness".
To answer your question, I can recommend an excellent replacement charger for your iPad. It's the PowerGen 12 Watt Dual USB Wall Charger, and it supplies up to 2.4 amps of charging current to quickly charge your iPad 2 as well as most other portable devices including iPhones, iPods and Android devices.
You won't have to worry about this charger damaging your equipment or ruining your batteries thanks to its built-in overcharging protection, but it is plenty powerful enough to quickly and efficiently charge your devices whenever they need charging.
Even though this particular charger only costs around $10, it has a mind-blowing 14,000+ customer reviews on Amazon, and most of them are glowing. I honestly don't think you'll find a better deal on an iPad charger anywhere.
Click here to check out the PowerGen 12 Watt Wall Charger on Amazon.
Note: The above link is an affiliate link. The prices on Amazon change frequently, so any prices mentioned in this post might might not be accurate by the time you read this.
If you like this post you can get my latest tips in my weekly RicksDailyTips Email Newsletter. Sign up for free at the bottom of this page!
---
Do you have a tech question of your own for Rick? Click here and send it in!