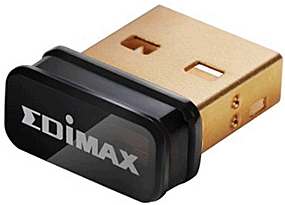 Do you have a desktop computer that you'd love to connect to your Wi-Fi network but you can't because it doesn't have a wireless networking adapter?
Or perhaps you have a laptop that will no longer connect to a Wi-Fi network?
Well, I have some great news: You can easily give virtually any Windows computer wireless networking capability, and it'll only cost you about 10 bucks!
This fantastic Edimax EW-7811Un Wi-Fi USB Adapter will get your PC working online over your Wi-Fi network in seconds. And it couldn't be simpler to use. Just plug it into an open USB port and install the driver.
That's really all there us to it. You won't have to open the computer's case or configure any complicated network settings. This thing truly is plug-n-play.
I've tested and used lots of USB wireless networking adapters over the years, and this is my favorite by far.
At 150Mbps it isn't the fastest wireless adapter on the market, but it's more than fast enough to outpace most users' Internet plans.
And let me tell you, this thing is rock-solid. It just works, and it works very well!
Bottom line: You could pay the Geek Squad to install an internal wireless networking card in your desktop PC or fix a laptop that will no longer connect to Wi-Fi, and they will do a great job for you. But you can easily use this little gem instead and save some serious cash!
Click here to read more about the fantastic Edimax EW-7811Un Wi-Fi USB Adapter at Amazon.
Note: The links in this post are affiliate links.