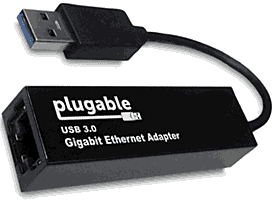 Question from Kenneth E.:  Hello Rick. I'm a pastor, and the deacons and I use an HP Pavilion dv4-1465DX laptop in my church office to access the Internet via a wired connection to the router.
For various reasons we don't have a Wi-Fi network in the church, so we have no choice other than to connect via Ethernet.
The problem is the Ethernet port stopped working on the laptop and it will no longer establish a connection. I'm fairly certain that it's a hardware problem because I smelled smoke right before it stopped working. Everything else besides the Ethernet port seems to be working though.
My question is can the bad Ethernet port be replaced? And if it can, can I do it myself or will I need to take it to a repair shop?
Rick's answer:  Kenneth, you won't be able to replace your laptop's bad Ethernet port because it's integrated into the motherboard. But what you can do is purchase an inexpensive USB to Ethernet adapter that'll effectively turn an unused USB port into an Ethernet port.
The beauty of these adapters is there is virtually no installation or setup required in order to use them. Simply plug it in, and Windows should automatically detect it and install the driver for you. Some models even come with extra USB 3.0 ports that you can use to attach other USB devices to your laptop!
There are numerous models available, but I recommend buying a USB 3.0 to Gigabit Ethernet adapter. Your particular laptop only supports USB 2.0, but I recommend getting a USB 3.0 adapter anyway since they are backward compatible AND reasonably close in price to USB 2.0 models. That way you could always use it later with a different computer that's equipped with USB 3.0.
Click here
to see the great selection of USB to Ethernet adapters available at Amazon.
Note: The links in this post are affiliate links.
---
Do you have a tech question of your own for Rick? Click here and send it in!
Need expert computer help? Click here to read about the services that I provide.